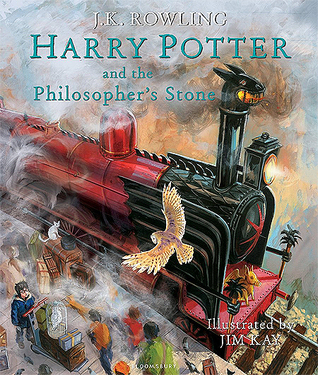 1. Harry Potter and the Philosopher's Stone (illustrated edition), by J.K. Rowling & Jim Kay.
This book doesn't really need an introduction, does it? I had told myself to not buy any more editions of Harry Potter, but when an illustrated series was announced I just had to have it! I've wanted Harry Potter with pictures since I was 9 - I'm getting Harry Potter with pictures! It's been a while since I read the series, though, and I have to admit that even though I know every single thing that's going to happen in the book, the storytelling is still amazing. Even though I know everything the storytelling pulls me inside, compelling me to read on to find out what's gonna happen next - although I already know. It's amazing :P
2. M is for Magic, by Neil Gaiman
. This is a short-story collection, and because I had read both
Smoke & Mirrors
and
Fragile Things
before, only two of the short-stories in this collection were new to me. There were 11 stories in
M is for Magic
. Those were:
1. The Case of Four and Twenty Blackbirds
2. Troll Bridge (read in
Smoke & Mirrors
)
3. Don't Ask Jack (read in
Smoke & Mirrors
)
4. How to Sell the Ponti Bridge
5. October in the Chair (read in
Fragile Things
)
6. Chivalry (read in
Smoke & Mirrors
)
7. The Price (read in
Smoke & Mirrors
)
8. How to Talk to Girls at Parties (read in
Fragile Things
)
9. Sunbird (read in
Fragile Things
)
10. The Witch's Headstone (an actual chapter from
The Graveyard Book
)
11. Instructions (read in
Fragile Things
, also released as a
children's picture book
)
How to Talk to Girls at Parties is being turned into a movie, and is widely praised as one of his best short stories, but it took a long time for me to like it. It had to grow on me, which I feel like it has now done. Sunbird has been kind of forced upon me too. Partly in this book, also in
Fragile Things
, and in
the Unnatural Creatures anthology
. But that is one of my favourites now. The Case of Four and Twenty Blackbirds was cool. What if Humpty Dumpty didn't fall off that wall, but was pushed? Murder in Fairyland. If I had to choose I'd say that Chivalry is my favourite story in the book. Closely followed by October in the Chair, Troll Bridge and Sunbird.
3. Anansi Boys, by Neil Gaiman
. I read
American Gods
a while ago and while I thought it was good, I also thought it had to many narrative threads that all didn't get resolved properly.
Anansi Boys
is supposed to be an independent sequel to
American Gods
, but I like
Anansi Boys
a lot more. With
American Gods
I got the feeling that Gaiman tried to squeeze every little thing he knew into one book, but for
Anansi Boys
he had learnt how to be moderate and not space out the story too much.
Anansi Boys
seems more professional and I really like how the main character develops as a person throughout the story.
4. Career of Evil, by Robert Galbraith (a.k.a J.K. Rowling).
I really like how
this series has turned out. The first book was incredibly boring to me. But the last two have been amazing. This book was intense and I didn't want to put it down. One thing that I really liked was that Strike's new girlfriend was named Elin. Do you know how rare it is for me to find my own name in things? Especially things that are not Swedish? I loved how Strike's and Robin's relationship evolved, and was horrified when Strike actually fired Robin. I was equally horrified when Robin actually got back together with Matthew instead of permanently dumping his ass. I did not expect who the murderer was. That was skill. I usually figure it out before the end, but I had seriously no idea with this one.
5. Harry Potter and the Cursed Child, by J.K. Rowling, John Tiffany & Jack Thorne.
This book needs no introduction. I've now had a week to contemplate the story and despite the short-comings that several discussion have revealed to me, I still love it to bits. Some fans are outraged by the trolley lady thing, but that only made me laugh out loud. Why not? was my feelings. If you can be chased by fireworks in the Potterverse, and also charm snowballs into bumping off the back of Quirrell's turban and thereby hitting Voldemort in the face - then why can't we have the trolley lady? Seriously. A lot of discussions have taken me back to the third book, trying to get a deeper understanding of how time-turner's work. But I admit that some things may have been overlooked there. But I'm okay with that too. Basically the whole story is amazing. I don't care if the basic plot has already been covered in different fanfictions (9+ years of fanfiction attempting to fill in gaps kind of makes it hard to create a brand new story, don't you think?), this one is canon. But some people are hilarious. Like the people complaining that there are so few people running the Ministry. Come on! It's not just the four or five people mentioned in the play! There are lots more! But unlike books and movies you can't fit innumerable people into a play. Deal with it. Let your imagination fill in the gaps. This book was amazing to me. I love it. And I hope that the play will get filmed so that I can watch it, because I really want to watch the play but doubt I'll get a chance.
Oh! And Scorpius for president.