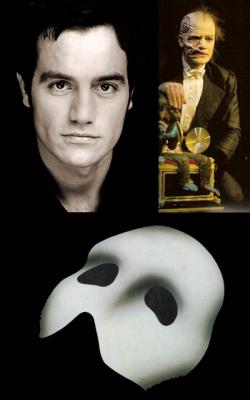 When I showed Les Misérables 25th Anniversary to Love he was, as I was before, enthralled by Ramin Karimloo who played Enjolras, one of the students. Partly because he's insanely hot and handsome, partly because he's a great singer and actor. I looked him up to see what else he'd done and found out that he was going to reprise his role as The Phantom for the 25th Anniversary in October. Love and I wanted to see it in London of course, but the tickets sold out in less than 30 minutes. We were somewhat sad about that until Tiffany mentioned that they were going to show it live from London in Malmö on October 2nd. We immediately went to that cinema's webpage (Spegeln) to book tickets, but they were all sold out. Then I got the idea to check the similar cinema in Lund (Kino) and it turned out that they had tickets left! We immediately booked three tickets (me, Love, Kajsa) and yesterday it was time.
The show began at 7.30pm with an introduction of how the musical came to be with interviews with Andrew Lloyd Webber and Cameron Mackintosh and several others who helped the musical come to life. At 8pm the musical started. I can tell you right away that I'm not a big fan of opera. The arias of the sopranos usually gives me a headache, that said I have nothing against male opera. As soon as the show started I started thinking: "Where is the Phantom?", "I want the Phantom!". He's the only character that I've found interesting when I've read short plot descriptions. But then I also have a thing for Beauty and the Beast-ish stories, my favourite always being the Beast.
The music wasn't as fun and upbeat as the music of Les Misérables, still it was extremely beautiful. My favourite is the kind of heavy score called The Phantom of the Opera. But I also enjoy Music of the Night. All the others sort of flow together. The song with all the notes is kind of fun to listen to :)
I love the climax and the final scene. I wasn't disgusted by his face when she removed her mask at the end. Not because I knew that it was make-up, but because I never look at people's faces first. I look at their eyes, their manner of moving, their manner of speaking, I look at their general behaviour. All I wanted to do was to comfort the poor soul. He's a wonderful character who's been forced to live a hard life because of an unfortunate facial distortion. I can't do anything but to feel sorry for him and want to help him.
I loved this musical and leaving the cinema I felt really happy. I had enjoyed this musical a lot. I've gone and went all cultural! Never thought that would happen :P
I realise that I've almost only talked about the Phantom here, but I love this character.
I'll end this post with the song that got me interested in the Phantom of the Opera to begin with: