A while back I started playing
The Elder Scrolls III: Morrowind
. The game is from 2002 so the graphics are... well,
really
outdated. But with some help I found a mod that makes the graphics somewhat better. All the people aren't ugly anymore and they don't walk as if they just pooped their pants anymore. All good. The fighting style, though. It looks like my character is standing with her arm stretched out and waving a toothpick around. Seriously, it looks
ridiculous
. But the game is old, so the graphics are bad. Let's move on.
There is no quest marker.
No. Quest marker.
After every playing session my head hurts from trying to remember everything. Which town I should go to and which way that town is. Where that character was and how do I get back there. Where that place is in that town and how to find my way back. It doesn't help that my sense of direction already sucks, but now I have a game that doesn't help with that.
NO QUEST MARKER.
At least the map of Vvardenfell that I got in
The Elder Scrolls Anthology
is being put to good use :/ That's the map I use the most, cause the map in the game sucks. The local map is too zoomed in to be of much help, and the world map is just a big pixelated blob that shows nothing but the places I've already been and there are no names on it. So finding my way to a new town on the world map - impossible. Finding my way out of the present town on the local map - difficult. Presently I'm in
Vivec
and the town is a maze! I learned
Balmora
pretty fast and
Seyda Neen
wasn't difficult, I did get lost in
Ebonheart castle
but nothing compares to Vivec.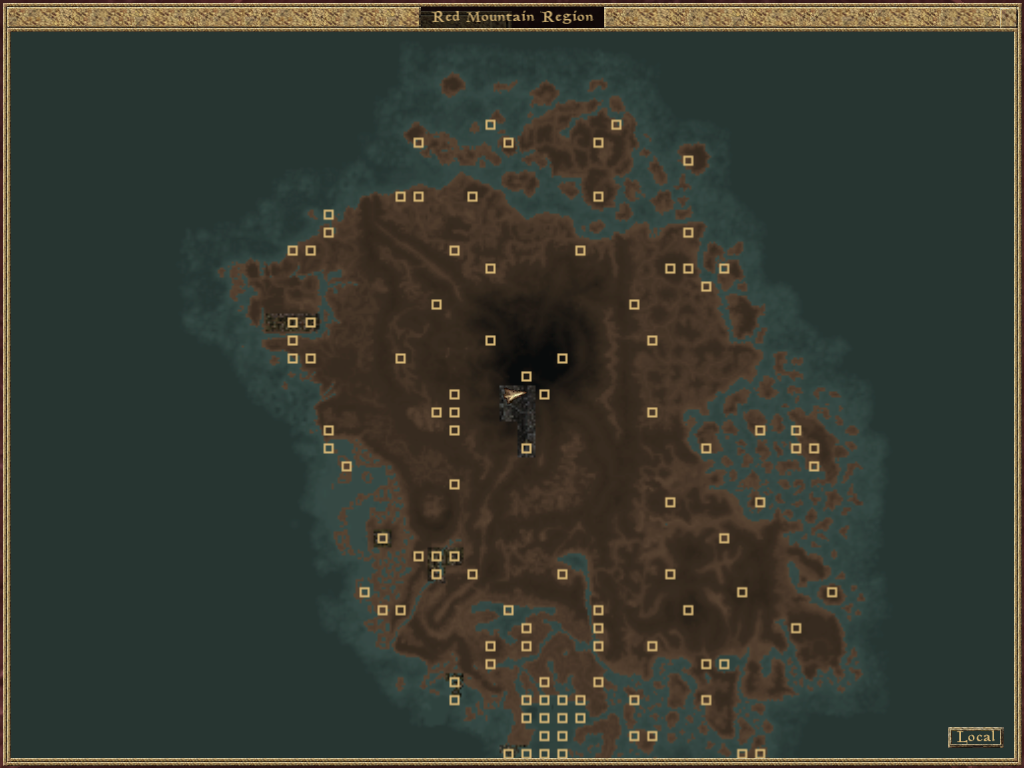 There is no fast travel. Seriously. Have you any idea how frustrating it is having to walk everywhere? Unless one feels like paying a bunch of money to the people running the
silt striders
, that's what one has to do. The island of Vvardenfell is huge. I've played the game for 12 hours already and I've only been in the south-western corner so far. Just exploring the island could take me 100 hours of game time. Not kidding. Hopefully I'll get some quests done in that time.
There is no autosave. I had no idea about that so the first time I started the game I went around Seyda Neen and got killed. Assuming that the game would autosave upon entering and leaving locations (as both
Oblivion
and
Skyrim
did) I had not done a proper save yet. I was killed and realised that, yay, now I have to start all over again -.-' Now I try to remember to save often, but there are moments when I've forgotten and been killed and then realised that I'll have to redo a bunch of small side quests, because I forgot to save.
There is no button for blocking. I tried to find it before but then I realised that the higher the Blocking skill is the more the character blocks. So the blocking is automatic. I hate that. I just stand there waving my toothpick hoping my character has the good sense to block in time.
I don't understand the level system. As a level 1 and 2 I could beat a level 5 without much difficulty. As a level 2 I met with a level 8 character that I had to kill. He beat me. In two hits. TWO HITS. Fine that the level 12 character killed me in two hits, but a level 8? While I could beat a level 5? So I decided that since the game is so unfair as to not give me any quest markers it's alright for me to cheat a little with the leveling. So I found the console command for money. Typed it in and then spent half a fortune with different trainers leveling my character. I'm now level 7 and the game has gotten somewhat easier. Though I meet a lot bigger creatures when I'm out walking now. I kind of miss the
slugs
(Kwama Forager), the
mudcrabs
and the
rats
. Now I'm fighting
dinosaurs
(Kagouti). Dinosaurs against a toothpick.
I'm also not sure if I approve of the quests and the factions. I've encountered a quest that only a male character can do, and since I am a female character I can't. It bugs me that there are quests unavailable to me because I chose to be a girl. Then there are the factions. From the quest names that I've seen online it's obvious that the Fighters Guild and the Thieves Guild are fighting against each other. But I could join both? Will I have to choose later? Can I join all the Great Houses, or am I stuck with Hlaalu now because it was the first Great House that I encountered? Since the Great Houses all are fighting amongst each other, I wonder if it's possible. I want to be able to make every quest the game offers, as I did in
Oblivion
and as I've almost done in
Skyrim
. But I'm starting to wonder whether the game will let me.
I guess it's true that games were harder in the past. But out of all this I've mentioned, what bothers me most is the lack of a quest marker. Not just because my sense of direction sucks (I would love to not have my head ache after every session, though) but because it feels really weird not having a pointer to follow!
It sounds like I only have complaints, but when I am playing it I'm actually enjoying myself. It's only when I turn the game off that I realise how bad it really is by the present day's standards. Those who have played
Elder Scrolls
since the beginning tell me that
Morrowind
is the best game of the series. I will finish it. But I can't pretend that I don't miss
Skyrim
every time someone in the game mentions
Solstheim
... Or every time I meet a Nord... Just like I missed
Skyrim
every time I entered
Bruma
in
Oblivion
.
I miss the Steam Overlay. Had to disable it to get the graphics mod working. Now I can't take screenshots.