The Almost Nearly Perfect People should've been at the top here, but I felt that book deserved its own space.
1. Drug & Drop, vol 1, by CLAMP.
The first volume of manga in Japanese this time around. This is a remake of an old series by CLAMP that I read in English way back. Back then it was called Legal Drug and as far as I know it was put on hiatus after only three volumes. Maybe it's because the manga contains a lot of difficult, different, and odd words that you don't really learn unless you travel in the correct circles, and because of that I maye not have understood everything correctly, but was it always this jumpy? I'm missing the context, the connections between scenes are subtle to non-existant. The best part of the whole thing was when Watanuki from xxxHolic showed up (and what I hope is a regenerated Yuko). I used to love CLAMP to bits, I collected everything written by them that I could get my hands on, but this is not very good. Too stereotypical characters for one. Did they lose their touch or did I grow up?
2.
Watashi no Suki na Hito
, by CLAMP.
This is a short story collection in manga format and also in Japanese. This book has 12 short stories, all about different girls experiencing love in different ways. If I had read this when I was 14, and if it had been available in Swedish or English back then I would probably have loved it. As it is now, I found the stories too sugary sweet, too girly, and mainly too kawaii. Most horrible realisation of my reading life - Have I grown out of shojo manga? O_o I finally start to read CLAMP again after 7-8 years, only to discover that I don't like them anymore? This is awful :(
3. Code Geass, vol 1, by Ichirou Ohokouchi, Goro Taniguichi & Majiko!.
This volume of manga (in Japanese) is based on the anime of the same name. I haven't seen the anime, but I'm really excited to after reading this! Damn this was good! Some sort of post-apocalyptic world war setting, in a Japan that has been converted into a part of the world spanning empire known as Britannia. Lelouch is originally indifferent to both the empire officials' deeds as well as the rebels' loud opinions, but after finding a girl hooked up to a machine and locked inside a see-through tank, and also watching his childhood friend get shot by the empire, he decides to destroy Britannia. When freeing the girl in the machine he recieves some mystic power that enables him to influence people to do his will. As the story unfolds, he becomes a sort of avenger, while facing doubts when discovering that friends and classmates are on the side of the empire.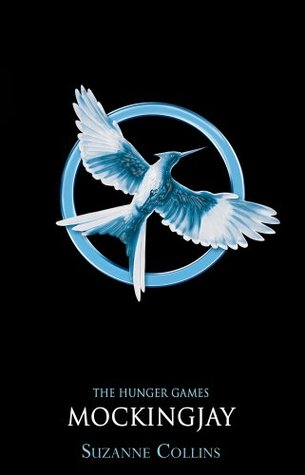 4. Mockingjay, by Suzanne Collins.
Last part of The Hunger Games! I can't believe I've waited this long to finish this series! The first two books were amazing and this one was no different. To be fair I did figure out some of the plot before that part came around, but thanks to the amazing writing my realisations didn't make the book boring, far from it. It was exciting all the way. Emotional ups and downs. Before I started reading I saw that several of the reviews on Goodreads began with; "What kind of an ending is that?!?!?! ahsghs D:" But I didn't mind the ending, I thought it was kind of fitting. Best goddamn series in a while! (I have only seen the movie based on the first book.)
5. Maze Runner, by James Dashner.
No.
That could be my whole review. Just a no. I read this in Swedish, so it could be the translator, but the language was boring, even the trying-to-be-inventive-slang was boring. There was not even the slightest shade of character development in anyone. For being the smartest kids in their post-apocalyptic world they were incredibly stupid. I figured out what they needed to do in the maze about 100 pages before the characters even get to it. And - because there was no language to hold on to, because the storytelling was flat, and because the characters never grew - from that point on it basically became just waiting for them to catch up. The telepathy thing was stupid (I sincerely hope that will be explained more in detail in the other two books, because here it was mostly 'oh this is a thing we can do, let's roll with it'), the Grievers seemed like something a five-year-old would paint if asked to imagine a monster: a big blob with arms and needles, and the sins of the main character were in no way left to mystery when very early on the girl starts ranting about what they did and how this is all their fault.
Actually, throughout most of this book I had the same feeling I have when I read through my own manuscripts from a few years back: cringe.
This book was too predictable and too flat. (I haven't seen the movie.)
Mostly disappointments this time around. Hopefully that will get better by my next batch!